Slope instability occurs along a critical slip surfaces which are identified during the stability analysis. The slip interfaces, which separate the stable mass from the unstable mass, must be intercepted with reinforcements capable of providing enough resistance to achieve stability. At Green Orange Construction we offer slope stabilizations design and construction services. Stability of slopes along roadways, landslide stabilization, stream bank stabilization, slope stability for commercial and residential developments, slope stability during excavations, tunnel portals, embankments, berms and levees are common applications for our services.
Based on depths, geotechnical and design considerations, the slip interface may be intercepted by using a variety of reinforcement such soil nails, tiebacks, piles, sheet piles, helical piles. Other times is sufficient to change in the slope gradient or to install a new reinforced soil slope, using geosynthetics and steel reinforcements.
Our soil grouting services may be used as well for slope stabilization purposes.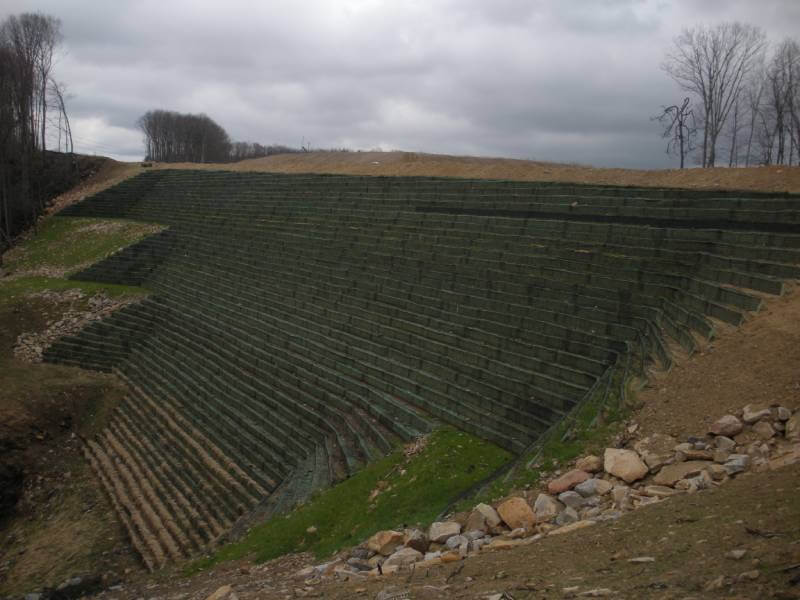 Green vegetated slopes
Soil nailing slopes
Reinforced slopes with tiebacks
Piles and micropiles reinforced slopes
Helical piles installation
Sheet piles installation
Reinforced soil slopes (RSS)
Geogrid reinforced soil slopes
Soil grouting
Shotcrete application
Landslide stabilization
Stability of slopes along roadways
Bridges
Property reclamation
Parking lots
Site grading
Slope erosion control
Levees
Embankments
Slope stability for commercial and residential developments
Detention ponds
Dams & spillways
Parks and recreational facilities
Golf courses
Trails
Stream bank stabilization
Slope stability during excavations
Mine and tunnel portals